Feb. 1, 2022
Montbello high school students, teachers, alumni, and parents spent the past year sharing their ideas and perspectives for the new Montbello High School. In 2021, nearly 1,300 community members provided input on the design of the new school through surveys, dialogue circles, one-on-one interviews, community meetings, and at community events. All this input was carefully reviewed by a Design Advisory Group made up of current and former Montbello educators, students, school administration and parents, as well as current high school students in Montbello.
For the past four months, these dedicated community members worked with Denver Public Schools (DPS) and its selected architects and builders to create an initial design for the new Montbello High School. Inspired by the Montbello name itself, meaning "beautiful mountain," the Design Advisory Group selected a design approach that reflects unity among a rich mosaic of culture and traditions.
This theme is now being applied to design a Montbello High School campus that includes brand new spaces and renovated portions of the current building. The current design calls for the building's auditorium, pool, and gyms to all be kept in their current locations but renovated to provide exciting upgrades. These would connect to an all new commons, cafeteria, library, and classroom wings providing safe, modern learning environments with plenty of windows for natural light and inspiration.
The combination of renovation and new construction also preserves spaces that are unique to the Montbello campus. The swimming pool, which the community worked hard to add to the school in the early 1990s, will remain the only pool at a DPS facility in the area. By renovating the school's auditorium, the campus will also keep an important performance and event space.
Throughout the design process, community leaders stressed the importance of designing a school that can thrive for decades to come. This includes creating flexible spaces that can be adapted as equipment and technology change over time. The building will also be designed to achieve net-zero energy goals in the future.
The project now moves into the design development phase. This includes everything from securing permits from a number of different agencies to finalizing plans for how and when each phase of construction will occur. Construction on portions of the site is expected to begin this summer and Montbello High School will officially open in Fall 2022 in the current building. Work will be planned to provide continued access to the school and minimize impacts on students and staff as much as possible.
You can stay up to date on the latest news on Montbello High School by visiting MontbelloHS.dpsk12.org.
***
Ya está tomando forma el diseño de la nueva Escuela Preparatoria Montbello
Los estudiantes de preparatoria, los maestros, exalumnos y padres de Montbello dedicaron el año pasado a compartir sus ideas y perspectivas para la nueva Escuela Preparatoria Montbello. En 2021, casi 1,300 miembros de la comunidad proporcionaron ideas acerca del diseño de la nueva escuela a través de encuestas, círculos de diálogo, entrevistas individuales, reuniones comunitarias y eventos en la comunidad. El Grupo asesor de diseño, integrado por educadores actuales y antiguos de Montbello, estudiantes, la administración de la escuela y los padres, así como los estudiantes actuales de preparatoria en Montbello revisaron cuidadosamente todos estos aportes.
Durante los últimos cuatro meses, estos dedicados miembros de la comunidad trabajaron con las Escuelas Públicas de Denver (DPS, por su sigla en inglés) y sus arquitectos y constructores escogidos con el fin de crear el diseño inicial de la nueva Escuela Preparatoria Montbello. Inspirados por el propio nombre de Montbello, que significa "bella montaña", el grupo asesor de diseño eligió un enfoque de diseño que refleja la unidad entre un rico mosaico de culturas y tradiciones.
Este tema se aplica ahora para diseñar el campus de la Escuela Preparatoria Montbello, que incluye espacios totalmente nuevos y partes renovadas del edificio actual. El diseño actual requiere que el auditorio, la piscina y los gimnasios del edificio sigan en sus ubicaciones actuales, aunque se renovarán y proporcionarán mejoras atractivas. Estas instalaciones se conectarían con áreas comunes, la cafetería, la biblioteca y salones de clases totalmente nuevos que ofrezcan unos entornos de aprendizaje seguros y modernos con muchas ventanas para proporcionar luz natural e inspiración.
La combinación de la renovación y la construcción nueva también conserva espacios que eran únicos en el campus de Montbello. La piscina, cuya adquisición fue el resultado del arduo esfuerzo de la comunidad a principios de los años 90, seguirá siendo la única piscina existente en una instalación de DPS en el área. Al renovar el auditorio de la escuela, el campus también conservará un importante espacio para representaciones y eventos.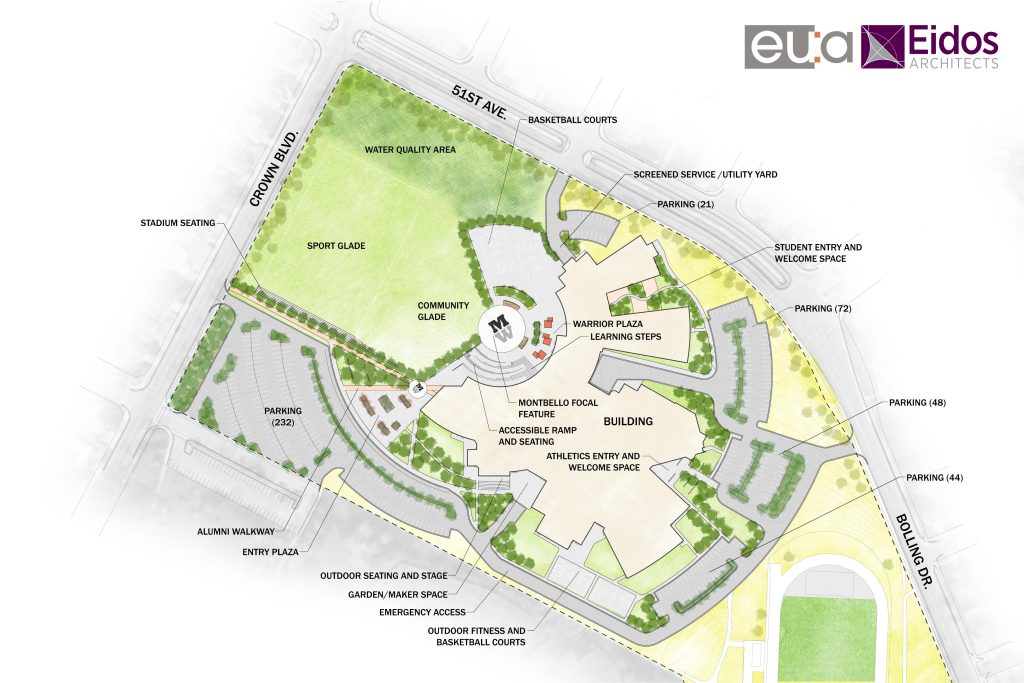 Durante todo el proceso de diseño, los líderes de la comunidad hicieron énfasis en la importancia de diseñar una escuela que pueda prosperar en las décadas venideras. Esto incluye crear espacios flexibles que puedan adaptarse a medida que los equipos y la tecnología cambian con el tiempo. El edificio también se diseñará para lograr las metas de energía de cero gasto neto en el futuro.
El proyecto pasará ahora a la fase de desarrollo del diseño. Esto incluye todo, desde obtener los permisos de varios organismos distintos hasta finalizar los planes sobre cómo y cuándo tendrá lugar cada una de las fases. Se espera que la construcción en partes de este emplazamiento comience este verano y que la Escuela Preparatoria Montbello abra sus puertas oficialmente en otoño de 2022 en el edificio actual. El trabajo se planeará para proporcionar un acceso continuo a la escuela y reducir al mínimo los impactos para los estudiantes y el personal escolar en la mayor medida posible.
Pueden mantenerse al día acerca de las novedades sobre la Escuela Preparatoria Montbello al visitar MontbelloHS.dpsk12.org.